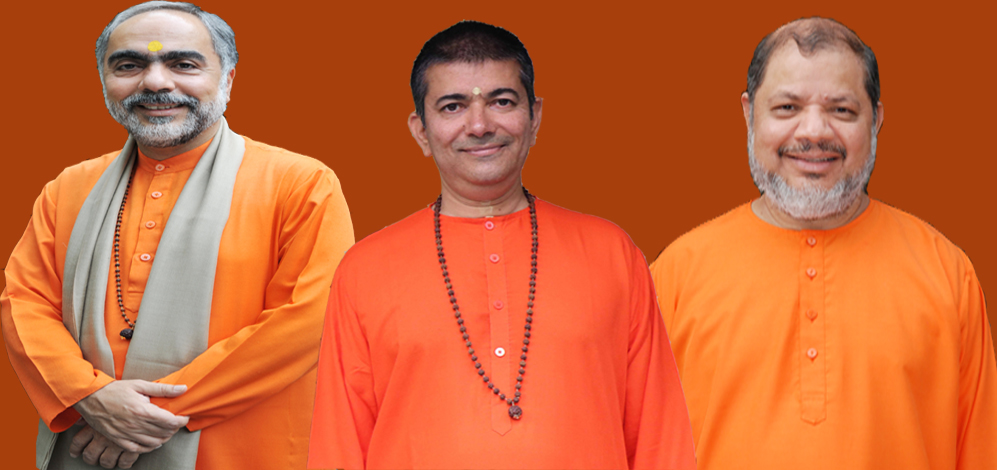 OUR ACHARYA


"I am waiting for the trained Brahmacharis to come up to give this message. Give them also 30-35 years, so that when I am gone, there will be not one but many more Chinmayanandas coming up, so that work will not stop but continue."
-Swami Chinmayananda
Our Guru Parampara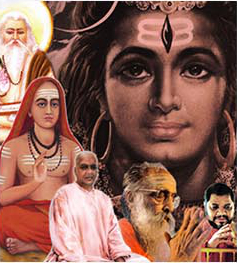 Adi Shankaracharya established the Dashanami Sannyasa Order, a monastic order with ten lineage names. Of these, Chinmaya
Mission belongs to the lineage and traditions of the 'Sringeri Matha' in Karnataka, India. The first acharya of this noble institution was none other than Shri Sureshvaracharya.
In the Sringeri Matha tradition, the Lord is worshipped as Deva in the form of Lord Adi Varaha, and as Devi in the forms of Puri Devi, Bharati Devi, and Kamakshi Devi. The main pilgrimage centre, or dhama, is Rameshvaram and the worshipped holy river, or tirtha, is Tungabhadra.
In this Bhurivara lineage, or sampradaya, the primary Veda is Yajur Veda, which reveals the Mahavakya: "Aham Brahmasmi". Sannyasis initiated into this lineage are bestowed with the title, or padavi, of "Saraswati" after their name (e.g., Swami Chinmayananda Saraswati).
Chief Acharyas
Swami Tejomayananda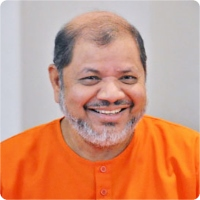 Swami Tejomayananda is the former Head of Chinmaya Mission Worldwide, a position he held since 1993 after Swami Chinmayananda attained Mahasamadhi. If Swami Chinmayananda served the cause of Vedanta with his service, knowledge and pioneering qualities, Swami Tejomayananda - fondly addressed as Guruji – completed that with his natural attitude of devotion. This is richly and abundantly evident in his talks, his singing, and his demeanour. But the gentleness of devotion arrived riding on the back of an intense education in physics, going up to a Master's degree. Born, Sudhakar Kaitwade to a Maharashtrian family in Madhya Pradesh, this physicist had a close encounter that changed the velocity, direction and path of his life.
Read More..
Swami Swaroopananda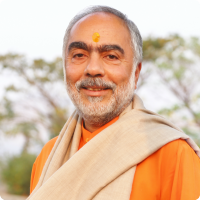 Swami Swaroopananda is the Global Head of Chinmaya Mission. The mantle of this important responsibility draped his shoulders from 19 January 2017, when Swami Tejomayananda passed on the baton to him. He chairs Central Chinmaya Mission Trust (CCMT), the apex governing body of Chinmaya Mission Centres and Trusts the world over. He is the Chancellor of Chinmaya University (Chinmaya Vishwavidyapeeth) and Chairman of Chinmaya International Residential School in Coimbatore, one of the most well-respected and well-performing residential schools of India. An able administrator and a dynamic leader, his watchful eye and acumen keeps him abreast with developments of any consequence in the over 300 Centres under his guard. Devotion to his Guru, Swami Chinmayananda, and obeisance to his philosophy, guides his decision making and governance.
Read More..
Our Acharya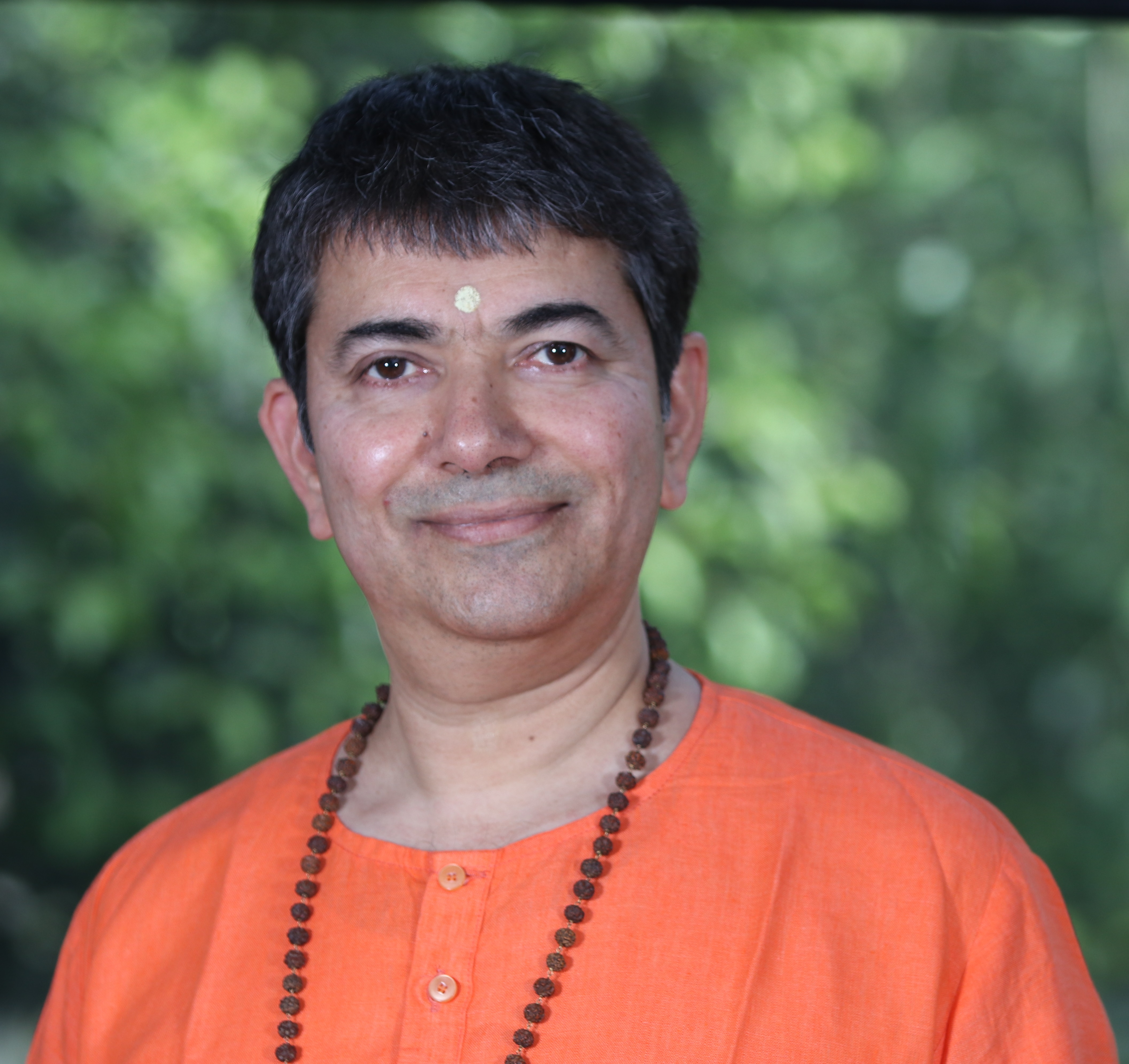 Swami Prakarshananda, presently serving at Chinmaya Mission, Lodhi Road, Delhi.
Education –
A Masters in Veterinary Science, he worked for few years as faculty in Bombay Veterinary College both in research & teaching. During this period he also got an opportunity to master the principles of Yoga by undergoing an Advanced course from the Mumbai University.
Spiritual Calling –
Exposure to the
 Bhagawad Geeta
 during his Yoga training, was a life transforming moment. Subsequently, Swamiji joined the Chinmaya Mission's Vedanta Course to undergo an intensive two-year monastic training through the study of the Scriptures. Swami Prakarshananda's tenure in Goa (2004 – 2016) witnessed growth in all grassroot activities of the Mission. In addition Swamiji:
Conducted Vedanta sessions for priests at the Christian Rachol Seminary, Rachol.
Pioneered and lead a Bhagawad GeetaCourse from 2007-2016, at the prestigious BITS Pilani, Goa Campus.
Mind Management program was conducted for 3 MTR Defense People for 2 years.
For young graduates a Personality Development Program was conducted for 3 months.
Delhi Tenure – Some Highpoints
Swamiji's meditation modules in English and Hindi, applicable to all age groups broke fresh ground and are well received, as the sessions aim to enhance will power and increase confidence levels.
IIT Delhi – Series of sessions conducted on different topics based on Bhagawad Gita for the students.
Duty Is Worship– Workshop for Officials in Dasna Jail.
Serve And Deserve– Keynote address at Rotary Conference of NE Circle India.
Journey To Inner-Self– 10 week Bhagawad Gita based program for doctors of Max Hospital.
Relevance of Bhagawad Gita in Day to Day Life– Seminar for Senior Managerial Staff of Aditya Birla Group.
Participation in Several Interfaith Religious Meets– Strong message of love and peace to improve harmony within and without.
Message of Scriptures to Improve Faith and Efficiency– Seminar at Modi University Premier Girls School, Laxmangarh, near Jaipur.
Swami Prakarshananda conducts regular Vedanta classes and discourses with equal ease on the 
Upanishads, Bhagawad Geeta, Bhagawatam, Sri Ramcharitmanas,
and other Scriptural texts. A dynamic, spiritual guide, Swami Prakarshananda has a simple style and a practical approach to life. His explanations adorned with examples from day-to-day living, make even difficult subjects interesting, appealing and easy for all ages to understand. His easy manner and open demeanor has endeared him to spiritual seekers in the capital. ~~~~~~~~~~~~~~~~~~~~~~~~~~~~~~~~~~~~~~~~~~~~~~~~~~~~~~~~~~~~~~~~~~~ स्वामी प्रकर्षानन्द वर्तमान में चिन्मय मिशन दिल्ली में सेवारत हैं।
शिक्षा –
स्वामी जी ने पशुचिकित्सा विज्ञान में स्नातकोत्तर शिक्षा प्राप्त कर क‍ई वर्षों तक मुम्ब‍ई के पशुचिकित्सा कॉलेज में अध्यापन अवं अनुसंधान के क्षेत्र में कार्य किया। इसी दौरान इन्होने मुंब‍ई विश्वविध्यालय द्वारा एक विशेष पाठ्यक्रम के अन्तर्गत योग के सिद्धान्तों पर भी निपुणता प्राप्त की।
आध्यात्मिक आह्वान /पुकार -
योग के पाठ्यक्रम के दौरान भगवद् गीता के सम्पर्क में आने से स्वामी जी के जीवन में रूपान्तरण आ गया। इस रूपान्तरण के फलस्वरूप स्वामी जी ने चिन्मय मिशन के वेदान्त कोर्स में प्रवेश लेकर गुरुकुल परम्परा के अन्तर्गत वेद-वेदान्त का कठिन तपस्यापूर्ण प्रशिक्षण प्राप्त किया। स्वामी प्रकर्षानन्द जी वर्ष 2004 से 2016 तक गो‍आ में सेवारत रहे और इस दौरान स्वामी जी के द्वारा वहाँ अनेक प्रकार के आध्यात्मिक एवं सेवा के प्रकल्प चलाये गये।
स्वामी जी के द्वारा - 
क्रिस्चियन रचोल सैमिनरी रचोल (गोवा) के पादरियों के लिये वेदान्त के सत्र चलाये गये।
बिरला इन्स्टीट्यूट ऑफ़ टेक्नोलौजी एन्ड सा‍इन्स, पिलानी के गोवा कैम्पस के लिये भगवद् गीता पर आधारित पाठ्यक्रम का नेतृत्व किया गया।
सेना के 3-MTR के सैनिकों के लिये मा‍इन्ड मैनेजमेन्ट का 2 वर्षीय पाठ्यक्रम चलाया गया।
स्नातकोत्तर युवा‍ओं के लिये 3 महीने का व्यक्तित्व विकास का कार्यक्रम भी आयोजित किया गया।
दिल्ली कार्यकाल - सुनहरे क्षण

आत्मविश्वास और इच्छा शक्ति के विकास हेतु स्वामी जी के ध्यान के शिविर सभी के द्वारा सराहे जाते हैं और साधकों का उचित मार्ग दर्शन करते हैं।
आ‍ई. आ‍ई. टी. दिल्ली - के विद्यार्थियों के लिये भगवद्गीता पर आधारित क‍ई सत्र चलाये गये।
सेवा ही पूजा है - डासना जेल के अधिकारियों के लिये कार्यक्रम
सेवा करें योग्य बनें - उत्तरपूर्वी भारत के रोटरी कान्फ़्रेन्स के लिये मुख्य उद्बोधन
यात्रा भीतर की ओर - मैक्स अस्पताल के डाक्टरों के लिये 10 सप्ताह का भगवद् गीता पर आधारित पाठ्यक्रम
भगवद् गीता का दैनिक जीवन में महत्त्व - आदित्य बिरला ग्रुप के वरिष्ठ अधिकारियों के लिये सत्र
अनेक अंतरधार्मिक सम्मेलनों में भागीदारी - बाह्य एवं भीतर के सामंजस्य हेतु प्रेम और शांति का प्रभावी संदेश
निष्ठा / विश्वास और कार्यकुशलता के विकास के लिये शास्त्र का संदेश - मोदी युनिवर्सिटि प्रीमियर गर्ल्स स्कूल, लक्ष्मणगढ़, जयपुर, के लिये सत्र
स्वामी जी द्वारा वेदान्त, उपनिषद्, भगवद् गीता, रामचरितमानस आदि ग्रंथों पर साधकों के लिये निरन्तर आध्यात्मिक सत्र आयोजित किये जाते हैं। स्वामी प्रकर्षानन्द जी एक ओजस्वी, आध्यात्मिक मार्गदर्शक हैं और जीवन के प्रति व्याव्हारिक दृष्टिकोण रखते हैं। उनके प्रवचन जीवन के सरल उदाहरणों से भरे होने के कारण शास्त्र के गूढ़ विषयों को भी रोचक, व्याव्हारिक एवम् सभी आयु वर्ग के लिये आनन्ददायक होते हैं। स्वामी जी के सरल और स्पष्ट आचरण ने उन्हें साधक जगत में अति प्रिय बना दिया है।