Central Chinmaya Mission Trust


If every limb demands what can the heart do – except miss-beat now and then – or jump into convulsion – STROKE? But we will give (or rehabilitate) the heart – CCMT and reach full vigour to all our centres so long as we can; all in His will and grace only
-Swami Chinmayananda
Who we are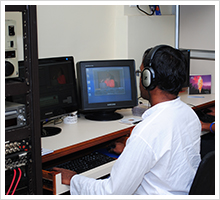 Chinmaya Video Dham (CVD) is our in-house media production department. Our core activities include audio-video mastering, capturing, editing, and authoring. In short, we serve both the audio-video production and archiving needs of Chinmaya Mission through modern technology, so that, maximum people may benefit from CM programmes today and for generations to come.
Envisioning the power of the Bhagavad Gita talks, CVD was started with the directive and blessings of Pujya Gurudev Swami Chinmayananda and under the leadership of Ms. Asha Kamdar. CVD thus began its journey in March 1992 with production of Pujya Gurudev's talks on the Bhagavad Gita delivered at Piercy, California (1991).
Today, CVD as the name rightly suggests is an abode of audio and video content including discourses, bhajans, chanting and other programmes of Pujya Gurudev, Pujya Guruji and other Acharyas.
What we do?
Every hour of a produced video title requires 50 hours of production work. Every title produced by CVD goes through all the following processes.
Data capture
Colour correction
Noise reduction
Tagging
Authoring
Mastering
CVD provides content for 'Chinmaya Sanchar' and for Chinmaya Mission's official YouTube channel, 'Chinmaya Channel'. Chinmaya Sanchar is Chinmaya Mission's official subscription based mobile application. Chinmaya Sanchar is available across all major mobile platforms and will provide audio and visual treats for devotees who are on the constant move. Such treats include Pujya Gurudev's Geeta Jnana Yagna which commenced on 13 October 2013.  Chinmaya Channel, through its cyber net, draws and reaches hundreds of devotees through rare talks and discourses, bhajans, interviews and satsangs by Pujya Gurudev, Pujya Guruji and other Acharyas.
Resources:
CVD is fully equipped to maintain the integrity of rare video recordings of Pujya Gurudev, donated by long-time devotees from across the world. Older recording formats (Umatic, beta tapes, cassettes, spools, LP records, etc.), are being converted to newer formats such as DVDs. In addition, adding subtitles and navigation menus provides are more user friendly and holistic experience. The DVDs thus mastered by CVD are mass produced by SONY ensuring both quality and longevity of our products.
CVD has recently expanded to bring into its fold 'Chinmaya Swarankan' – a full-fledged audio recording studio. This latest addition will enable us to bring in a further professional quality to our new titles and products.
Support Us
For Support Kindly contact with us.
Contact
Central Chinmaya Mission Trust Saki Vihar RoadPowai, Mumbai 400 072 Maharashtra, India Ph: +91- 2803 4900 email: ccmt@chinmayamission.com
Click to Contact us
Video