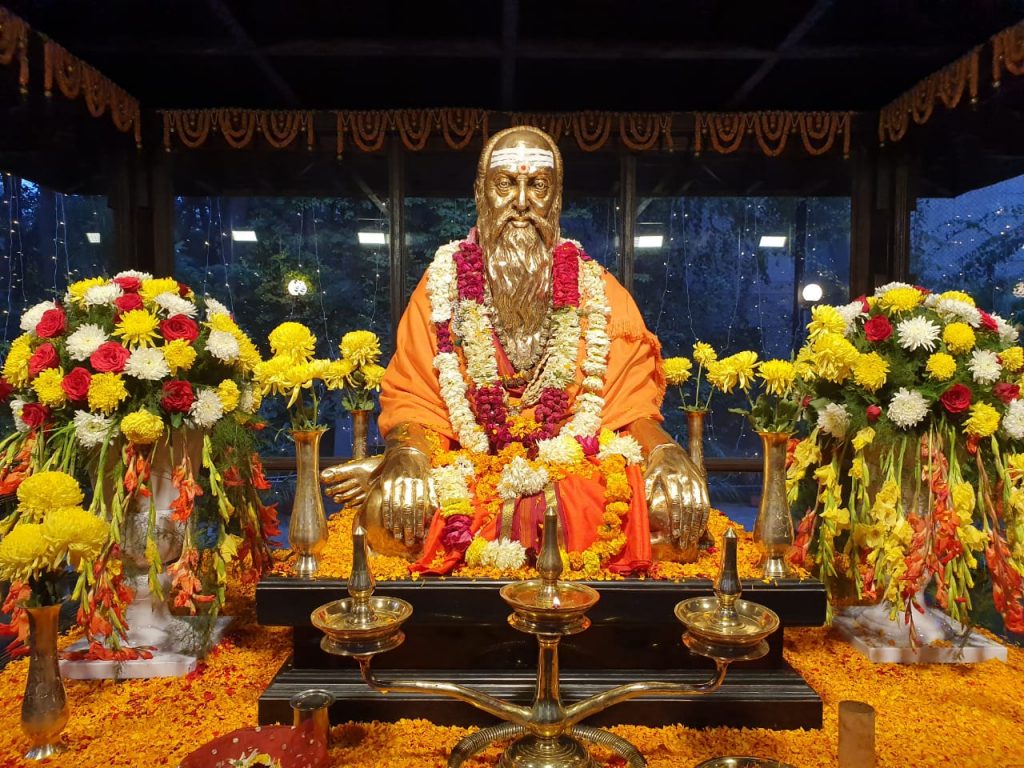 Pujya Gurudev Swami Chinmayanandaji's pratima sits atop a granite slab, in the 'shrine' at the Chinmaya Centre of World Understanding at Lodhi Road in New Delhi. The idol is placed at the exact spot where Gurudev reposed for over 12 hours in his Mahasamadhi state on the way from USA to Sidhbari via Delhi. Thousands of devotees in long queues filled past to pay homage to him on 7 August 1993.
He had promised a year in advance that we would have 'rare' photographs of his in Delhi on that day. This is where he fulfilled that promise and hallowed the sacred ground where a vibrant Chinmaya Mission Centre now stands. As a mute witness, he continues to bestow his blessings, creating an aura of a revered shrine and is a 'must visit' for all devotees.
The famous sculptor, Kasinath and his son in Bangalore sculpted the idol, under the aegis of Swami Brahmananda and Swamini Gurupriyananda. It is made up of panchadhatu, five metals – gold, silver, copper, tin and zinc. Sri Kasinath has also sculpted the Sri Hanumanji idol at Sidhbari.
Sculptor Ramesh Bisht in Delhi made the wax mould. Artisans travelled from Swamimalai in Tamil Nadu for the traditional casting of a panchadhatu idol in accordance with the shastras.
The famous Kanippayyur Narayanar Namboodari made the canopy and cast the dwaja stambha in the traditional Kerala style. Gurudev's pratima is the altar at the Chinmaya Centre of World Understanding, surrounded by a lotus pond and many satvik trees and shrubs. Gurudev represents the essence of the goal. In this idol sits erect the Ideal.
Pujya Swami Tejomayananda performed the unveiling ceremony of the pratima on 17 May 1998 in the presence of many swamis, including Swami Jyotirmayananda (who built up the Delhi centre from the 70s onwards), Swami Purushottamananda, and Swami Nikhilananda (present head of the Delhi Centre).